Scarlett Johansson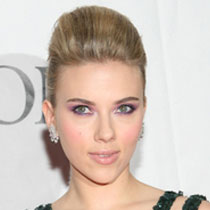 Considered one of the sexiest women in the world, has starred in numerous films, including , , and .
Health & Beauty Regimen
Diet and nutrition: In preparation for her role as Black Widow in , the otherwise voluptuous Scarlett traded in her usual carefree diet for a low-carb menu. Although tabloids reported that Scarlett was urged to lose 14 pounds, the actress retorted that the rapid weight loss rumors were untrue.
Fitness and exercise: Johansson usually avoids the gym. But for her transformation, Scarlett teamed up with trainer Bobby Strom - the same man responsible for ex-husband Ryan Reynolds' muscles. Johansson worked out seven days a week, doing core work, balance and coordination movements, and using the kettlebell during her 90 minute sessions. "It was many, many, hours, days, and months of stunt training and strength training, but it's fun because I had a goal. The goal was the Lycra catsuit," Scarlett has said of the experience.
Beauty products: In the August 2010 issue of , Johansson said she uses Jurlique's Purifying face mask once a week. As for makeup, she says she loves Dolce and Gabbana because "the glosses aren't sticky and the lipsticks aren't drying." Johannson recently became the face and spokesperson for Dolce and Gabbana's new makeup line.
Cosmetic treatments: A December 2007 issue of reported that Johansson had plastic surgery on her nose, which she vehemently denied. Fearing that such rumors could affect her career, Johansson sued the tabloid magazine for "outrageous and defamatory" plastic surgery allegations.
Quotes