Renee Zellweger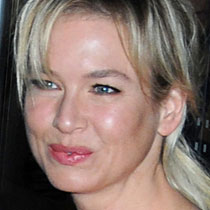 The American public first said "hello" to Renee Zellweger when she starred opposite Tom Cruise in 1996's Jerry Maguire. Since then, the actress from Texas has gone on to star in hits like the two Bridget Jones' Diary films, Chicago and Cold Mountain for which she won the academy award for best supporting actress.
Renee has also won three Golden Globe Awards and three Screen Actors Guild Awards, and has been nominated for various others. She has dated actor Jim Carrey and rocker Jack White of the White Stripes, and was briefly married to Kenny Chesney in 2005. In the same year, she received a star on the Hollywood Walk of Fame.
Health & Beauty Regimen
Diet and nutrition: While preparing for her role as the voluptuous Bridget Jones, Renee reportedly gorged on fatty carbs like pizza, doughnuts, Snickers bars, and beer.
But once filming wrapped up, she quickly shed her 4,000 calorie a day diet along with the excess weight, returning to her svelte size zero figure in a matter of months. To shape up, Renee follows a strict macrobiotic diet of lean fish, rice, and vegetables, earning her a spot on People magazine's list of the 50 Most Beautiful People. She has also been known to experiment with The Zone, Hamptons and Atkins Diets.
Fitness and exercise: In October 2008, Renee told SELF magazine that she goes to the gym six days a week to do cardiovascular workouts, such as clocking five miles on the treadmill and the elliptical trainer.
In a May 2009 interview with Glamour magazine, she called running the biggest outlet in her life. "It's my solitude, and I need it," she said.
Beauty products: Renee has been rumored to be a fan of BORBA's DeLucious Vitamin Enhanced Cookies, which contain trendy Brazilian superfruit acai to combat fine lines. She's also been said to use Karen Herzog Silhouette and Tonus B12 cream to reduce cellulite.
Cosmetic treatments: Renee gained weight to play the titular character in both of the Bridget Jones' Diary films, and so her weight and body has observably changed over the years. Even though she credits diet and exercise to regaining her naturally healthy form, tabloids and Internet bloggers began wondering as early as 2006 whether she had utilized cosmetic procedures to speed up the process and perfect her look.
It was speculated in a December 2006 issue of In Touch Weekly whether Renee had a breast augmentation done after showing up to a few premieres with a noticably bigger bustline. A few blogging physicians agreed that Renee's cup size seemed to have increased in an unnatural way.
In April 2008, a rigid-faced Renee appeared at the premiere of the film Leatherheads, leading many to question whether she had received Botox injections or other facial treatments.
Quotes
"The gym is my therapy. I've got to get stuff out...The perk of going and spending time by myself and getting my head straight and thinking through what might be bothering me is that I get fit. That's not the goal, but it's a nice by-product."

From an interview with SELF magazine, October 2008
"I have a job that requires me to get dressed [up] more often than if I were in another line of work, but I don't have a lot of indulgences. I like nice wine, and I like sushi, and those things aren't cheap. Well, they can be, but I don't think I'd go for the cheap fish!"

Glamour magazine, May 2009