Oprah Winfrey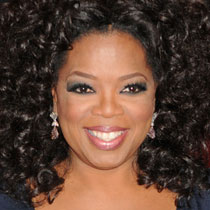 One of the most powerful people in America, is a talk show host, producer, media mogul, and philanthropist best known for hosting her hugely successful and highly acclaimed daily talk show, . In 2011, Oprah (who almost always goes by her first name) launched her cable channel, OWN.
Health & Beauty Regimen
Diet and nutrition: After spending much of her adult life overweight, Oprah embarked on a liquid diet, finally flaunting her weight loss on her talk show in 1988 by displaying a wheelbarrow full of 68 pounds of fat - representing the fat she had shed. She posed in tight size 10 jeans at the time. However, she almost immediately regained the weight.
Fitness and exercise: Oprah's struggles with weight are well-documented. In 1994, Oprah ran the Marine Corps Marathon. By 2008, Oprah was diagnosed with a thyroid disorder which made her sluggish and fearful of exercise.
Beauty products: Oprah's show has featured numerous episodes devoted to anti-aging treatments, with themes like, "How to Stop the Clock on Aging," "Look Younger! Live Longer!" and "Look 10 Years Younger in 10 Days."
Cosmetic treatments: In 2003, tabloids reported that Oprah had a , , and a chin implant, although none of these procedures were ever confirmed.
Quotes