Megan Fox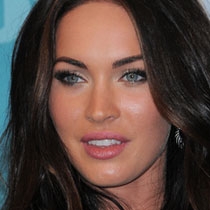 Health & Beauty Regimen
Diet and nutrition: Fox has reportedly tried a vinegar diet - taking shots of vinegar, straight up - to lose weight.
Fitness and exercise: Fox, who often claims to be lazy and unmotivated when it comes to working out, is actually a proponent of Pilates, and attributes her teeny 22 inch waist to the rigorous routines. "I do a lot of Pilates - an immense amount of Pilates," she told reporters at the 2009 Golden Globes. With the help of a personal trainer, who she supposedly works with at least three times a week, Fox also incorporates strength training exercises, like planks and push-ups, into her exercise routine.
Beauty products: Megan has a self-professed weakness for eye makeup and told that Epicuren Discovery Enzyme Lip Balm SPF 15 is one of her favorites. She is also reported to be a fan of Laura Mercier, Chanel, and MAC cosmetics.
Cosmetic treatments: Along with starlets like Hilary Duff and Lindsay Lohan, Megan Fox is a part of a wave of young Hollywood actresses that have elected to have plastic surgery early in their careers.
Quotes