Meg Ryan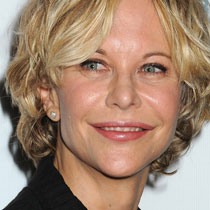 Before anyone had heard of Katherine Heigl, and back when Jennifer Aniston was still just a , was the queen of romantic comedies. Once considered to be America's sweetheart, Meg has starred in films that include , , , and .
Health & Beauty Regimen
Diet and nutrition: Meg reportedly adheres to the Zone diet, balancing her carbs and calorie intake with lots of fresh vegetables and (according to her Whole Foods grocery cart) vitamin-filled energy drinks.
Fitness and exercise: Meg keeps her naturally petite frame fit and toned with regular runs. When running becomes too hard on her hips, she switches it up with yoga. Meg has frequently been photographed carrying her orange yoga mat to and from classes, though she also practices her meditative poses at home.
Beauty products: Meg has been spotted at Tracie Martyn's beauty salon on Fifth Avenue in New York City.
Cosmetic treatments: Interested observers of Ryan's face in recent years have noticed significant differences in her lips and cheeks, both of which seemed fuller than normal for a woman of her age.
Quotes