Marisa Tomei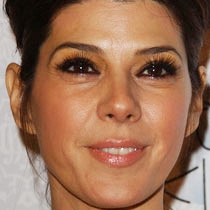 An American film and theater actress with her own line of fitness DVDs, is perhaps best known for her role as the brassy girlfriend opposite Joe Pesci in 1992's , for which she won an Academy Award.
Health & Beauty Regimen
Diet and nutrition: According to an interview in magazine, Marisa's morning routine involves drinking a cup of hot water with lemon ("I never got into coffee") and munching on a boiled egg drizzled with a little olive oil, or some fresh berries and granola with whole milk yogurt. She keeps high protein snacks on hand. "I'm a person who has to eat!" she says. "I graze every few hours."
Fitness and exercise: A fitness devotee, Marisa is known to hula hoop, belly dance, and use Pilates in order to maintain her youthful body. Marisa has her own line of DVD exercise programs, and . She also co-hosted an infomercial for the fitness program.
Beauty products: Marisa is known to use these products:
Cosmetic treatments: While it is speculated that Tomei may have utilized non-surgical facial treatments like or , but experts generally agree that there is no clear evidence she uses anything other than a skincare regimen.
Quotes