Lil Kim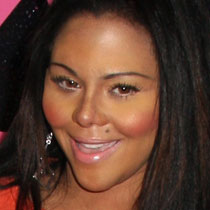 Kimberly Denise Jones, better known as , is an American rapper, songwriter, and part-time actress. She began her musical career with the rap group Junior M.A.F.I.A. Kim released her first solo album in 1996, entitled "Hard Core," which went double platinum.
Health & Beauty Regimen
Diet and nutrition: To get her body back into slamming shape after a year spent in the, well, slammer, Kim reportedly signed up for Freshology, a food preparation and delivery service that provides its dieters with between 1,200 and 1,400 calories a day. Some of her favorites from this fad-diet included cous cous with dried fruit, grilled tuna, sweet chili glazed tofu, and veal Milanese.
Fitness and exercise: Kim had personal trainer Jonas Serrano help her lose 10 pounds in preparation for Dancing with the Stars. The 4'11 firecracker feels best at a weight of 105 pounds.
Beauty products: Lil' Kim sometimes wears blue contact lenses.
Cosmetic treatments: Although she does not publicly discuss the matter, Kim has undoubtedly undergone an extensive amount of plastic surgery. Judging from a comparison of photos from 1996 and more recent photos from today, it is clear that Kim's appearance has been surgically altered.
Quotes