Kim Kardashian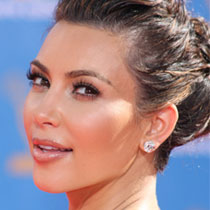 Kim Kardashian is a popular reality TV star, along with the rest of her almost-as-photogenic sisters. The three eldest Kardashian sisters have become a K-initialed retail conglomerate.
Health & Beauty Regimen
Diet and nutrition: Kim recently traded in her grande soy chai latte for a healthier breakfast of oatmeal with bananas or blueberries, or scrambled egg whites and turkey bacon.
Fitness and exercise: Kim is featured in a series of workout DVDs called which she developed with celebrity trainers Jennifer Galardi and Patrick Goudeau.
Beauty products: Skin products that Kim likes to use include:
Cosmetic treatments: Speculation about cosmetic procedures seems to be a daily part of Kim Kardashian's life. Kardashian admits to and laser treatment for cellulite.
Quotes