Kathy Griffin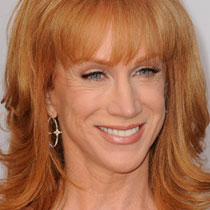 Fearless comedian has never shied away from discussing her many cosmetic procedures. In fact, she often brags about them. Griffin is best known for her series and a raging crush on silver-haired CNN star Anderson Cooper.
Health & Beauty Regimen
Diet and nutrition: In 2010 Griffin appeared in a bikini, looking extremely thin and fit. She explained to Giuliana Rancic that her secret was "starvation and frustration."
Fitness and exercise: Kathy Griffin swears by good old fashioned exercise (and diet too). "I work out five days a week for an hour to an hour-and-a-half, and my personal trainer comes to the house," Griffin told in April 2009. "I need to have my ass kicked."
Cosmetic treatments: Kathy Griffin has had Lasik, , a , , , , and a hair straightening procedure.
Quotes