Kate Gosselin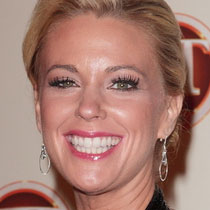 Health & Beauty Regimen
Diet and nutrition: Kate's 5'7, 130 pound build can be attributed to a strict organic diet consisting of hummus and baba ganoush, egg whites and feta cheese, and low-fat cottage cheese with sunflower seeds and almonds. When she's craving sweets, she'll snack on fat-free Fig Newton-like cookies.
Fitness and exercise: Fearing the loss of her svelte new physique after getting voted off Kate amped up her workout routine. On a July 2, 2010, episode of , Kate reported that she runs every day, works out, and "lives healthy." If she's not running after one of her eight kids, you may find her running a hilly track in her hometown.
Beauty products: Celebrity hair stylist Ted Gibson gave Kate Gosselin hair extensions in January 2010, a process that reportedly took 20 hours. Gosselin had the extensions removed a few months later.
Cosmetic treatments: In 2007, shortly after giving birth to her sextuplets, Kate received an procedure, more commonly known as a tummy tuck, which was documented on a television special that aired on January 23, 2007.
Known doctors: The doctor who performed Kate's tummy tuck operation in 2007 was of Nyack, NY. Interestingly, Dr. Glassman offered the procedure at the insistence of his wife, Lauren Glassman, who was a fan of the show.
Quotes