Julia Roberts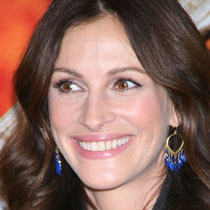 Wide-smiling is one of the most popular actresses in Hollywood, having starred in numerous smash films such as , , and , for which she won the Oscar for Best Actress in 2000.
Health & Beauty Regimen
Diet and nutrition: Upon the completion of her latest film, , where she ate a significant amount of pizza (eight slices during a short, 45 minute shoot) while filming in Italy, Roberts began using Diet Designs eating programs to help shed the weight gained from filming. Diet Designs is a customized eating program where healthy meals made from special recipes are home-delivered.
Fitness and exercise: Roberts enjoys a variety of fitness routines that includes swimming, running, cross country skiing, arm exercise, yoga, and Pilates. For more than a decade, Roberts has worked with fitness instructor Kathy Kaehler. The two meet four times a week for one hour workouts, during which she does 20 to 40 minutes of step aerobics. The rest of the time is spent toning through body movements such as crunches, planks, lunges, and push-ups. Roberts also enjoys adding aquatic workouts to her routine, like swimming laps in her Malibu pool.
Beauty products: Roberts is quoted saying that she believes the secret to staying young is "being happy - and maybe a little eye cream." She also attributes her husband for making her feel young and happy.
Cosmetic treatments: Since 2004, the question of whether or not Roberts has used cosmetic treatments has been widely debated in tabloids and celebrity blogs. Rumored treatments have included in the areas of her eyebrows and face, collagen implants in her lips, a procedure to straighten out her nose, and cosmetic dental surgery to reduce the visibility of her gums.
Quotes