Jessica Simpson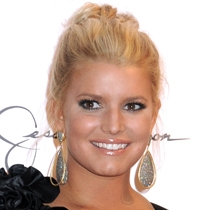 Flashback to 1999, when Jessica Simpson first charmed the world with her hit single, "I Wanna Love You Forever." The pop song quickly exploded, rocketing the self-proclaimed lovable ditz into stardom. In the seeming blink of a media eye, she married boy-band singer Nick Lachey, starred in the MTV reality show Newlyweds: Nick and Jessica, and won a lead in the movie Dukes of Hazzard.
But Jessica Simpson has come a long way since sporting Daisy Dukes. The all-American singer, actress, and fashion maven can now add designer to her already lengthy resume after founding a clothing, cosmetics, and accessories line that sells everything from high heels to edible perfume. As of 2011, her collection had rung up $750 million in sales, prompting Women's Wear Daily to crown Simpson "fashion's billion dollar baby."
In 2010, Simpson collaborated with VH1 to produce her female-centric television series Price of Beauty. In the show, Simpson travels the world to learn about the different activities women engage in for the sake of beauty.
Simpson is also the International Youth Ambassador for Operation Smile - a non-profit medical organization that offers reconstructive dental surgery to children in developing countries.
Health & Beauty Regimen
Diet and nutrition: Though Simpson once infamously asked whether Chicken of the Sea was composed of chicken or tuna fish, and was once a devotee of the protein packed South Beach Diet, she is currently abstaining from animal products altogether. Simpson's new eating habits were inspired by her fiance, NFL star Eric Johnson - a vegan. For Thanksgiving, the couple cooked tofurkey. Simpson has claimed that veganism "shocked" her system and is helping her lose weight for her upcoming wedding to Johnson.
Simpson is also trying a weight loss tea called Pu-erh tea. "Who am I right now? This might be too clean!" she Tweeted in regard to her new animal-free dining habits.
In January 2011, Simpson reportedly underwent a diet cleanse, though which one is unknown.
Fitness and exercise: Ever since photographs of a curvier Simpson in less-than-flattering high-waisted jeans circulated in the media, the once svelte blonde has become almost too well-known for her fluctuating waist line.
That's because she wasn't always considered overweight. To prepare for her Dukes of Hazzard debut, Simpson worked with trainer Michael Alexander six days a week for two hours at a time, slimming down to a size 0. According to Alexander, the training sessions were, "never about fat loss. She never once stepped on a scale. It was about taking on a different shape."
Simpson has recruited celebrity trainer Tracy Anderson - of the Tracy Anderson Method - to whip her back into shape. According to the Huffington Post, she'll engage in 75 minute workouts, four times a week.
During an episode of Price of Beauty, Simpson traveled to India, where she participated in Laughter Yoga - a meditative sequence of clapping, breathing, and, of course, laughing.
Beauty products: In 2006, Simpson revealed in an interview with Glamour magazine that she, "had that Restylane stuff," but was disappointed with the short-lived results. Though Simpson has been accused of having several other cosmetic procedures, including a breast augmentation and more lip work, Simpson denies the reports. "True- went to the doctor yesterday. False plastic surgery," she Tweeted in June 2010, responding to rumors that she spent six hours in a plastic surgeon's office.
Cosmetic treatments: Simpson believes in an ancient Chinese healing practice known as "cupping" - where heated glass cups are suctioned to the skin in order to remove toxins from the body. She claims that cupping has been good for her body and is highly meditative.
Simpson also explored a spa treatment known as a Thai massage on the premier episode of Price of Beauty. She's been known to give herself facials too. In 2010, Simpson Tweeted a picture of herself while using a La Mer mask along with the message: "Thanks La Mer for the upper and lower zone radiant mask."