Helen Mirren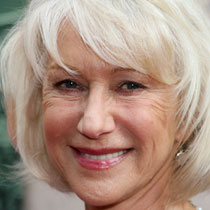 Dame is a British actress who has appeared in film, television, and stage productions in an illustrious career that has spanned decades.
Health & Beauty Regimen
Diet and nutrition: Though Mirren once said, "I'm just like everybody else - I'm always on a diet," she isn't a huge promoter of her eating habits, saying simply that she takes vitamins and tries to mind her portions. Mirren's healthy appetite might be called the everything-in-moderation approach. "I've never done anything to excess. I've never drunk or eaten too much. It helps to stay balanced," she told magazine in 2008, right after epic pictures of her vacationing in a jaw-dropping red bikini surfaced.
Fitness and exercise: Mirren makes sure to get a lot of sleep, and even sleeps in her trailer during lunch during filming if possible.
Cosmetic treatments: Red carpet photos from the mid-2000s showed Helen with a very clean and taut neckline, leading some to believe that Mirren had a and a neck lift.
Quotes