Heidi Klum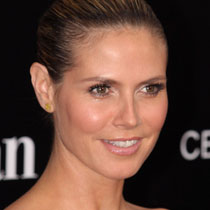 Health & Beauty Regimen
Diet and nutrition: Heidi quickly shed her pregnancy weight by sticking to a strict diet made up of several small snacks throughout the day, like a 180 calorie protein shake, a four-egg-white omelet with veggies, broccoli and skinless chicken, and a cup of turkey chili.
Fitness and exercise: Since 2008, Heidi has been the spokesperson for Diet Coke's Heart Truth campaign, which raises awareness for women's health with events such as an annual fashion show featuring a "red" theme.
Beauty products: Heidi has her own skin care line called , which includes a foaming cleanser, a firming serum, a wrinkle smoother, a tinted moisturizer, an eye treatment, and a warming scrub. Presumably, Heidi uses these products.
Cosmetic treatments: Within two months after the birth of her third child in 2006, Heidi was back on the runway at the Victoria's Secret Fashion Show with the same supermodel looks she has become famous for.
Quotes