Gwyneth Paltrow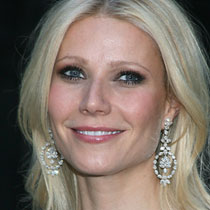 Lithe blonde auteur is an American film and theater actress who has starred in such films as , , , and both and . Her most recent movie was country music-themed weepie .
Health & Beauty Regimen
Diet and nutrition: Paltrow has a penchant for ingredients. In her GOOP newsletter, Paltrow revealed her use of a diet program called "Clean," designed by Dr. Alejandro Junger. The Clean Diet is a 21-day detox program intended to adjust the digestive system and flush toxins from the body. Followers are encouraged to eat organic, fresh ingredients while avoiding processed food. Prior to this three week diet, Paltrow took a crack at the , a 21 day spicy lemonade only diet.
Fitness and exercise: Gwyneth practices and , which she also touts on GOOP. Her current yoga instructor is Elena Brower. Her Pilates instructor is .
Beauty products: Gwyneth is the spokesperson for cosmetics and fragrance brand Estee Lauder.
Cosmetic treatments: After an orthopedic surgeon performed a bone scan on Paltrow in 2010, she discovered she was in the beginning stages of osteopenia, a vitamin D deficiency that weakens bones structure since vitamin D is essential to helping the body absorb calcium. She has since increased her vitamin D intake.
Known doctors: Paltrow has been working with Dr. Oz Garcia, a New York City nutritionist who is recognized as "the world's leading authority on healthy aging." Dr. Oz is the author of several books including "Redesigning 50: The No-Plastic-Surgery Guide to 21st Century Age Defiance."
Quotes