Demi Moore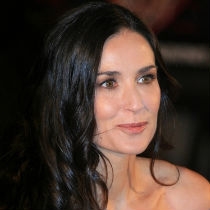 The beauteous broke into Hollywood as a member of the infamous "Brat Pack" of young stars in the 1980s. She has starred in hits like , , and .
Health & Beauty Regimen
Diet and nutrition: In July 2010, Moore announced on Twitter that she was a proponent and user of the detox and weight loss program, the . This program is a strictly liquid diet where users only drink a concoction of fresh lemons, grade B maple syrup and cayenne pepper.
Fitness and exercise: The extremely buff Moore is known to employ a nutritionist, a personal trainer, a yoga instructor and a champion instructor.
Beauty products: In 2009, Moore said that her youthful look can be attributed to "expensive products" and natural therapies, such as leech therapy.
Cosmetic treatments: Since her role as a comely bikini-clad villainess in in 2003 when she was 40 years old, it has been widely speculated that Moore has utilized multiple cosmetic surgeries and procedures.
Known doctors: It is widely speculated that Dr. Brian Novak of Beverly Hills performed multiple plastic surgeries for Moore.
Quotes