Catherine Zeta-Jones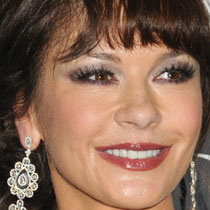 Health & Beauty Regimen
Diet and nutrition: While Zeta-Jones was pregnant in 2000, she reportedly gained 50 pounds and weighed as much as 180 pounds. After she gave birth to her son, Dylan Michael Douglas, in August of that year, she wanted to lose the weight for her wedding to Michael Douglas in November 2000, and went on the Atkins diet to do so.
Fitness and exercise: Day to day, Catherine stays active by venturing into the great outdoors, swimming in the ocean and pool, and golfing with her hubby, Michael Douglas. Though she'd prefer to swing a nine iron over lifting a nine pound weight, Zeta-Jones "drags" herself to the gym when she needs to seriously tone up. Still, "When I finish it, I enjoy it," she told magazine.
Beauty products: Since 2002, Catherine has been the face and spokesperson for Elizabeth Arden beauty products. She particularly likes to use the Prevage and Intervene product lines. In 2005, Elizabeth Arden teamed up with Allergan - the same folks who produce Botox - to develop an entire line of skincare anti-aging products. According to the Elizabeth Arden website, the products most beloved by Catherine Zeta-Jones are:
Cosmetic treatments: Most believe that Catherine has undergone few, if any, cosmetic procedures, but some argue otherwise. A photo comparison of Catherine from 1990 and 1996 reveals that more recently, the tip of her nose is more rounded and the width a little narrower, leading many to believe that that the actress may have had a nose job early in her career.
Quotes