Brad Pitt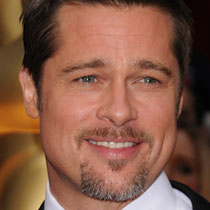 Considered to be one of the world's favorite leading men, first charmed the American public in 1991's , and has since used that charm and his good looks to build a successful acting career in Hollywood.
Health & Beauty Regimen
Diet and nutrition: According to magazine, ex-wife Aniston convinced Brad to follow the Zone Diet - a weight loss program developed by Dr. Barry Sears that balances its followers' intake of carbohydrates and protein. He also supposedly tried Atkins during this period, eschewing most carbs.
Fitness and exercise: Brad Pitt's best accessory (next to Angelina Jolie and the Jolie-Pitt brood) may be his fit body. Celebrity trainer Gregory Joujon-Roche is the trainer behind Brad Pitt's physique. While training for his role in , Brad reportedly committed to two or three hour workouts six days a week, the rigorous sessions which lasted all of six months and included a variety of methods, from martial arts and yoga, to weight lifting and massage therapy.
Beauty products: Pitt has been said to have had a $325 resculpting facial from Tracie Martyn, a favorite of other celebrities including Madonna, Kate Winslet and Penelope Cruz. He's also been said to use Kinerase cream to reduce wrinkles.
Cosmetic treatments: Photos of Pitt hiding behind his facial hair and sunglasses during red carpet events and premieres inevitably spurs speculation that Pitt may have had some kind of skin resurfacing that leaves the face reddened or swollen temporarily, like Thermage. Fueling the fire of speculation, Pitt was spotted at the Lasky Clinic in 2004 with then-wife Jennifer Aniston, a plastic surgery clinic in Beverly Hills.
Known doctors: The reports that in 2010, before Pitt started shooting his latest film, , he visited Dr. Mark Rubin, a plastic surgeon in Beverly Hills, for injections of Radiesse.
Quotes