Angelina Jolie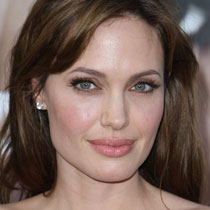 One of the biggest celebrities on the planet, is famous for a startling variety of reasons, including her acclaimed acting career; her humanitarian work and effort to aid foreign refugees; her high-profile relationships with Hollywood actors; and last, but not least, as one of the most beautiful women in the world.
Health & Beauty Regimen
Diet and nutrition: In July 2009, the UK Daily Mail reported that Jolie was eating red meat every day. She has been quoted as saying that when she was a vegan, she almost died from not getting enough nutrition, and now jokes that steak is her "beauty secret."
Fitness and exercise: Along with love Brad Pitt, Angelina Jolie is a devoted practitioner of Siddha Yoga. She also incorporates Pilates routines into her workout regiment and, according to magazine, works with celebrity trainer Gunnar Peterson to tone her butt and abs.
Beauty products: In February 2009, reported that Jolie is obsessed with wrinkle treatments. The actress reportedly uses firming caviar creams from La Prairie and is happy to pay out over $400 a pop for their caviar-based facials.
Cosmetic treatments: The number one thing people want to know about Jolie and plastic surgery: are her lips real? Photos of the actress as a young child reveal that she has always had very full lips, and it is generally acknowledged that her lips are naturally large and pouty.
Quotes