Andie MacDowell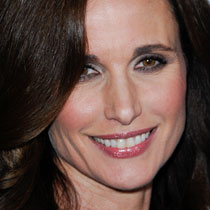 Health & Beauty Regimen
Diet and nutrition: Andie's dietary habits are as natural as they come. She doesn't eat processed or packaged food, loves fruits and vegetables, and drinks lots of water. And it seems as though her dedication to eating (and using) organic products has rubbed off. Her daughters - vegetarians - are so far committed to a green lifestyle too. "What's really interesting to me is how easy it is for my children to live in ways that will save the earth," Andie has said. Andie's one concession is meat, which she eats in very small amounts for protein.
Fitness and exercise: Without any reserves, Andie loves working out. The death of her mother from a heart attack when she was only 53 years old led Andie to become very serious about health and fitness. She tries to exercise seven days a week.
Beauty products: A veteran spokesperson for L'Oreal Paris, Andie has made it clear that she doesn't concern herself with name brand beauty products. "Some people think beauty creams that cost a hundred dollars or more must be better. I have used L'Oreal for 20 years. Don't be fooled. Conserve your money and use the saved cash on healthy foods," Andie said in response to how she stays so young and vibrant looking. Wondering whether this beauty routine is "worth it?" From her appearance, it's quite possible that she has discovered the fountain of youth.
Quotes