Jake Gyllenhaal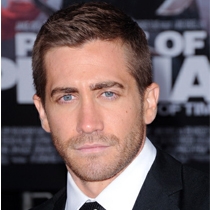 Born into a talented showbiz family (dad is director Stephen Gyllenhaal, mom is screenwriter Naomi Foner), Jake Gyllenhaal debuted onscreen at just 10 years old in the 1991 comedy City Slickers. His breakthrough performance wouldn't come until 1999, when Gyllenhaal portrayed NASA scientist Homer Hickam in October Sky. On set, Gyllenhaal launched rockets; in reality, the movie launched his career.
Next up was Donnie Darko - the sci-fi flick turned cult hit that was released in 2001. In the indie film, Gyllenhaal plays the psychologically warped teenage brother of actress Maggie Gyllenhaal, who also happens to be his biological sister.
Gyllenhaal has starred in numerous other box office hits as well, including The Day After Tomorrow, Jarhead, Proof, Rendition, Brothers, Brokeback Mountain, Prince of Persia: Sands of Time, and Love and Other Drugs. He has twice played Anne Hathaway's on-screen love interest, though the two have never actually dated.
Gyllenhaal has been involved in two high-profile relationships, one with Kirstin Dunst and the other with Reese Witherspoon. He briefly dated Taylor Swift, to the delight of tabloids everywhere, but the two parted in late 2010.
Health & Beauty Regimen
Diet and nutrition: Turns out that Gyllenhaal has a green thumb too. Not only does he grow his own produce, but he's a big supporter of urban gardening. Gyllenhaal tries to maintain an environmentally friendly kitchen, using local ingredients whenever donning a chef's hat. "I like to go to a farmer's market first, buy things fresh, and come up with my own dish based on whatever I've bought," he has said.
Fitness and exercise: Gyllenhaal takes a nonchalant approach to fitness. "I used to go to the gym. I don't anymore," he told the Daily Mail in 2010. "I just like being active, breaking a sweat." He particularly enjoys hiking.
But the six-foot actor wasn't so blase when it came to training for his warrior role in Prince of Persia: Sands of Time. To transform his naturally boyish frame into that of a buff swordsman, Gyllenhaal worked with former Royal Marine Simon Waterson for four months, training two to three times a day, six days a week. His workout consisted of cardio and circuit training. Waterson also had his star pupil wear a special 20 pound jacket while running, which was meant to simulate the weight of metal armor.
Gyllenhaal has been seen leaving Tracy Anderson's gym - of the Tracy Anderson Method - as well, and during his two year relationship with Reese Witherspoon, the duo practiced yoga together.
Beauty products: Deep tissue massages may have supplemented Gyllenhaal's physically demanding Prince of Persia workouts. This type of massage can be useful for easing muscle aches and sports-related injuries.
Cosmetic treatments: According to Internet chatter, Gyllenhaal may have undergone rhinoplasty to make the tip of his nose slightly smaller. The rumors are based on comparisons of recent photographs to ones taken of Gyllenhaal earlier in his career, though the authenticity of this claim remains unconfirmed.
Quotes
"It's uncomfortable when you're naked on set, but I do feel like an old hand at it at this point. I've done some pretty crazy things already. My parents taught me to feel comfortable about my body. They told me there's a beauty in whatever you are. Also I feel it's very important to portray love and sex in the right way."

Daily Mail, December 2010