Coachella has gone from alternate to big time – and how.  Nearly a million music lovers head to  the Palm Springs desert every April for this massive music and arts festival. This year, Zeel was among the throng.
Amid the hubbub of Coachella,  attendees found refuge and recovery with a Zeel massage at four different Coachella events.
Foray x Vampped Desert Oasis
Zeel set up by the poolside of this 18 bedroom (!) house. Zeel Massages took place to the musical stylings of Brody Jenner.  Other guests included Emily Ratajkowski (also spotted by Us Weekly), Vanessa Hudgens, and Amber Rose. The event was co-hosted by Foray Collective, an influencer-curated shopping destination, and Vampped, a Los Angeles-based creative marketing agency. (Becca Tilley's beau, Robert Graham, is Vampped's Director of Marketing.)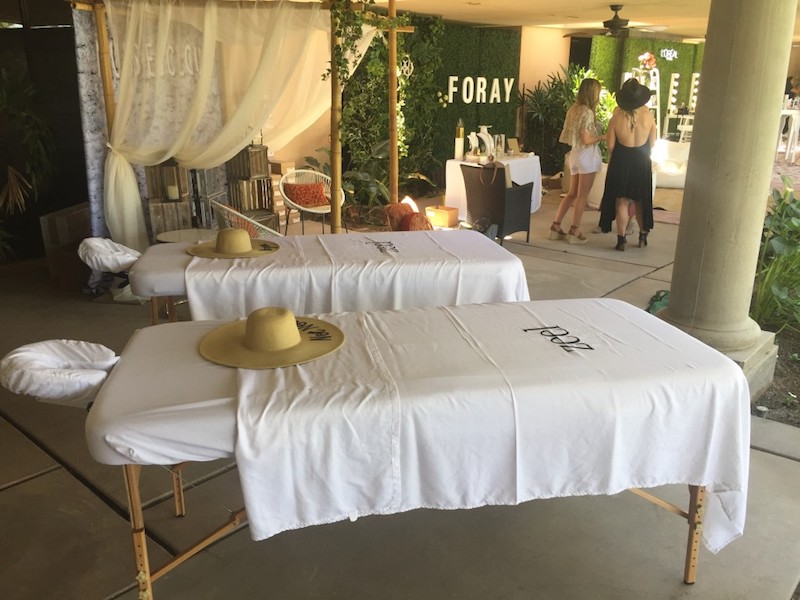 Velocity Black x 1OAK / Up&Down Beach Club
This party was a major celebrity magnet, featuring not only Zeel Massages (tucked away into a chic cabana) but a dramatic artificial beach, complete with boats and jet skis.  
Celebs spotted at the venue included Leonardo DiCaprio (who also owns a house in Palm Springs), Rita Ora, Drake, Rihanna, Orlando Bloom, and long-time Zeel fan, Paris Hilton.
Lucky Brand's Desert Jam
Lucky Brand's Desert Jam proved to be a refuge for the Coachella frenzy, nestled in the chic, historic Ingleside Inn.  Miley's little sister Noah serenaded the crowds (when they weren't getting Zeel Massages, of course). Zeel aficionados, BC Jean and her husband, Marc Ballas were among a few of the stars who stopped by to say hi to the Zeel team and massage therapists.
Urban Decay's #UDrehab House
The sun in the Coachella Valley can be very strong. Fortunately, Zeel Massage table were set up under a remarkably picturesque tepee, providing both shade and an attractive Instagram subject at this cheerful backyard fete.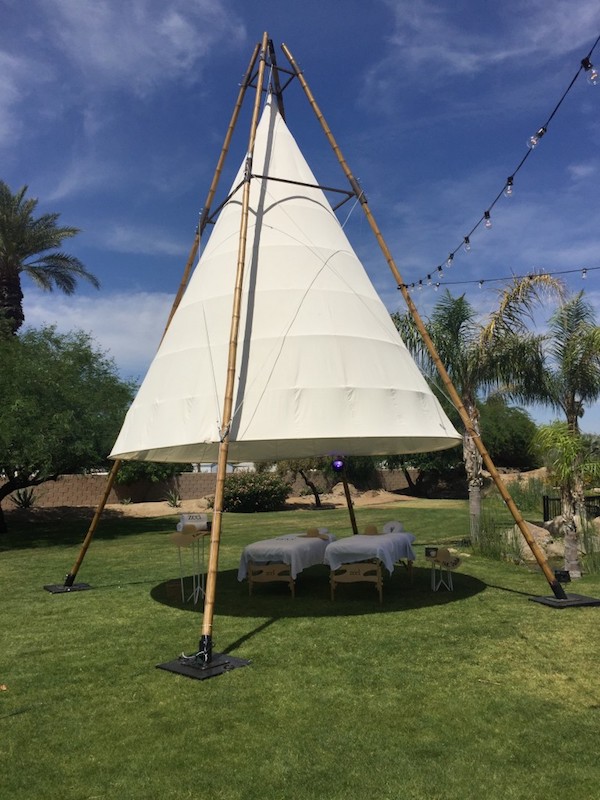 Other Coachella observations
The sun is no joke in the Coachella Valley! If you're attending the second part of the festival, or plan to go next year, make sure to wear sunscreen (and remember, no spray sunscreen is allowed at the festival). That's one of the most crucial Coachella survival tips.
Aside from mandatory sunscreen, fashion choices included bandanas, glitter (especially on the parts in hair), wedge booties, bodysuits under shorts or mesh dresses, and, of course, the ever-chic black Zeel T-shirt.
Suggested Reading: Zeel Ultimate Spa Party with Bachelor Nation
Marcy Lerner
Marcy is the SVP of People and Communications at Zeel. In addition to overseeing the humans of Zeel, Marcy has written about workplace topics for more than 20 years both at Zeel and as VP of Content for Vault.com, a career information web site and publisher.