Zeel Massage On Demand makes a grand appearance on ABC's Dancing with the Stars on Monday, May 1 with the one and only Nancy Kerrigan.
Nancy Kerrigan, Olympic skater and former nemesis of Tonya Harding, has put her skates aside to dance for the Mirrorball Trophy with partner Artem Chigvintsev.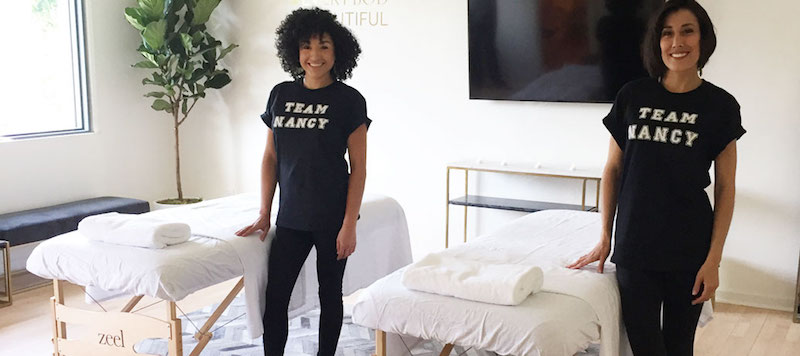 Zeel Massage Therapists Keila and Nuna await Nancy Kerrigan and Artem Chigvintsev for a pre-rehearsal couples massage.
The May 1 DWTS program theme is "Movie Night," with Nancy and Artem prepping a romance-genre tango to the tune "Pretty Woman." To reward Nancy for all her hard work, Artem surprised Nancy with two Zeel Massage Therapists for a pre-rehearsal clothes couples massage.
While waiting for Nancy and Artem to arrive for a rehearsal at DWTS star Kym Herjavec's new studio The Bod, dancer Alan Bersten leapt at the chance to get a quick arm massage from Zeel Massage Therapists  Keila and Nuna.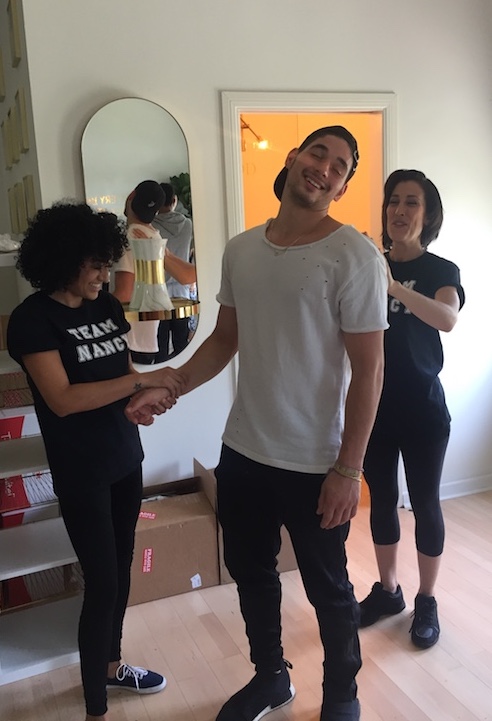 Alan Bersten enjoys an impromptu arm massage from two Zeel Massage Therapists in Kym Herjavec's new studio The Bod
Nancy, whose feet were aching after days of practicing a sexy tango with Artem, was excited to hop on the massage table.
Keila and Nuna, both huge fans of the program, didn't waste any time before giving the pair much-needed deep tissue massages.
Make sure to watch Dancing with the Stars tonight at 8 pm EST on ABC – and book your own massage for dance recovery with Zeel.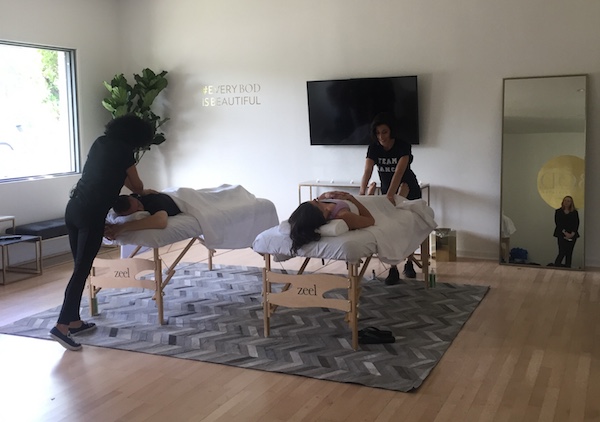 Nothing like a Zeel couples massage during a physical competition like Dancing with the Stars – Nancy Kerrigan and Artem Chigvintsev
Postscript: Sadly, despite her excellent showing, tonight was Nancy's last night on Dancing with the Stars. We hope Nancy takes some time to follow Artem's excellent suggestion and enjoy a post-dance massage for herself as well!
Marcy Lerner
Marcy is the SVP of People and Communications at Zeel. In addition to overseeing the humans of Zeel, Marcy has written about workplace topics for more than 20 years both at Zeel and as VP of Content for Vault.com, a career information web site and publisher.