Find out how little it costs to get a great massage delivered to your home in as little as one hour. Your very own personal massage spa is a reality, thanks to Zeel.
Everyone likes a good massage. But getting top-notch massages is a slog.
You have to make an appointment during a specific window of the spa's availability, wait for your appointment date and time, and then commute to your local spa or franchise.
After your massage session, instead of easing into a restful slumber, you have to wake yourself up, put your clothes back on, and travel all the way home — ruining your massage buzz.
Time for a change. You want a massage when your back hurts, now — not a week from now.
A few years ago, Samer Hamadeh, Stanford engineer and founder of revolutionary career website, Vault.com, decided to change how massage works.
He realized that customers wanted massages "on demand" and that they would appreciate the massage coming to them. He also learned that massage therapists wanted to make more money, and to have control over their schedules.
In 2012, Samer decided to create a new massage category — allowing customers to turn their homes, hotel rooms, and workplaces into luxurious pop-up spas at the touch of a button, and giving licensed massage therapists the financial freedom, personal safety, and flexibility they craved.
Zeel Massage On Demand ® was born.
How can I get a Zeel massage?
Convenience shouldn't mean you have to sacrifice quality or safety. Zeel is proud to have over 9,000 massage therapists who offer a five-star, spa-quality experience, coupled with best-in-class security that goes above and beyond anyone else in the wellness industry.
Today, Zeel on-demand massages are available in over 80 major metro areas — from New York City to Chicago to Denver to the San Francisco Bay Area, and countless cities and towns in between.
You can book a Zeel massage to arrive at your home, hotel, or office in as little as an hour. All you have to do is select the time and place (available 8am–10:30pm, 365 days a year), your preferred massage therapist gender, your favorite massage technique, and then hit "book."
Booking a massage takes only seconds on the Zeel app for iPhone and Android or on the Zeel website, and therapists are confirmed within minutes.
A licensed, vetted, and insured massage therapist arrives at your door with a massage table, some relaxing music, and everything you need for a transcendent therapy session.
Can I save money on a massage?
Absolutely. Did you know that a Zeel in-home massage is typically less expensive than massage at a luxury spa, for the same quality of massage experience — not to mention, zero travel? It's no wonder people are rushing to ditch the drive to the spa.
On top of that, you can join Zeel's massage membership program and unlock an additional 20% off the massage price — every month (exact savings depends on location).
Where can I Zeel?
Simply enter your zip code on the Where We Zeel page.
You'll see a screen telling you if Zeel is available in your area, what it costs (including an automatic 18% tip), and what the Zeelot member savings would be.
Click Get a Massage to book, and instantly turn your home into a 5-star spa!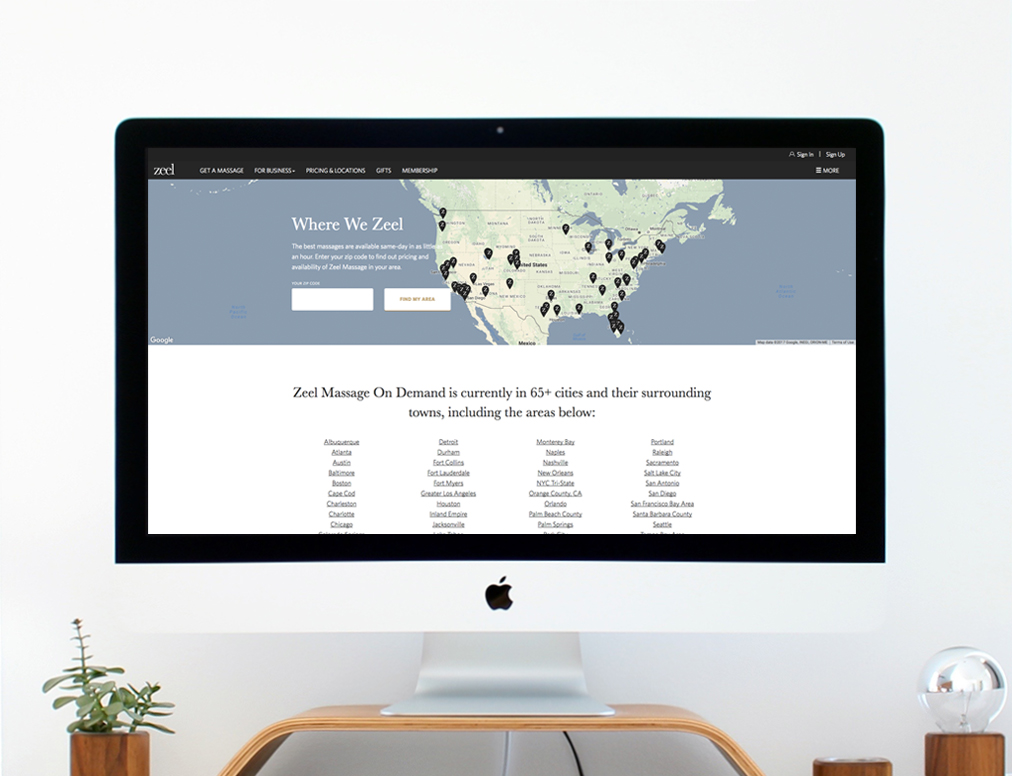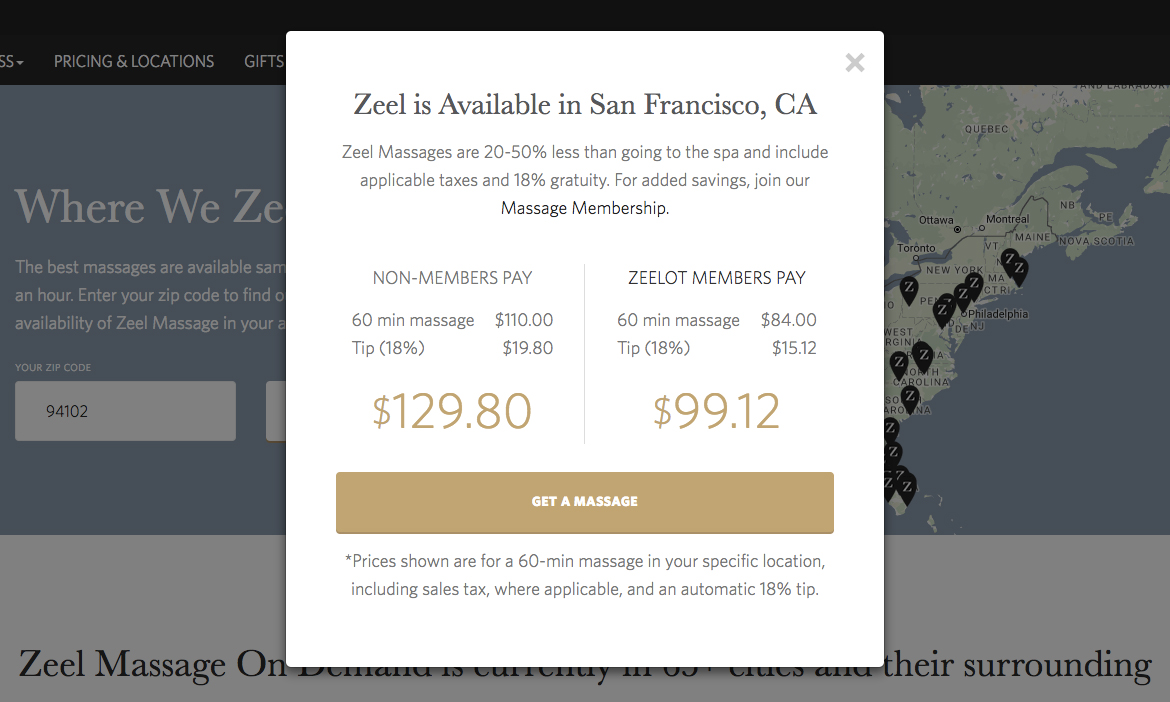 *Members who opt for a massage table with membership will be locked in for a 6-month commitment period. If canceled before, they'll be charged a fee. 
Zack Kinslow
Zack is a writer, producer and marketer with 10+ years' experience in the advertising, nonprofit and tech startup industries. He is currently the Education Production Team Lead at Foundr Magazine, a web site for entrepreneurship education and was previously Content Manager at Zeel. Learn more about Zack on LinkedIn.