Slim, Sweat, Shake: 5 Reasons We Love the "v.method"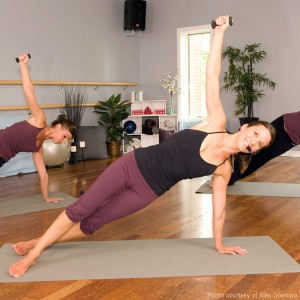 I think the exercise gods are out to get me. In the past two weeks alone, I've incurred Achilles tendonitis and a nasty burn on my hand (lesson learned: don't grab a piping hot pan without an oven mitt) that have benched me from both of my beloved workouts: running and yoga.
So when Zeel Expert personal trainer Vicki Vara suggested that I take a swing at her latest workout, I was more than ready for the challenge. I may not be able to hold a downward dog or jog more than a city block at the moment, but Thanksgiving is upon us and I'm admittedly desperate to sweat as much as I can before the imminent feast.
This morning, I took my first stab at Vicki's v.method—a comprehensive wellness program that melds elements of cardiovascular training with classic Pilates, ballet and yoga. While the first installment of the v.method—"cardio vusion"—can be performed through personal training and group classes, the energetic exercise routine is now available on DVD and can be performed in the most convenient place of all: that tight space between your coffee table and flat screen TV.
24 hours later, I'm still feeling the glute, tricep and core crunching effects of the 50-minute workout and am eager to report back with the top five reasons why I loved every second of the v.method: cardio vusion.
1. Three simple segments. Vicki breaks down her "cardio vusion" workout into three manageable components, one for the lower body, the abs and core, and a cardio interval. Try all 50 minutes at once for a total body workout, or if you only have 20 minutes to spare, pick your favorite of the trio and get moving!
2. Exercise anywhere. The setup is easy; all you need is a mat, a chair (or other steady, waist-high surface), and a set of one-pound weights (these are optional). I'm already planning to tote the video along on my Thanksgiving holiday and can't wait to squeeze in a segment or two in between making a pie and sitting on my behind.
3. Energy and encouragement. Just when you think you can't squat any lower or hold your forearm plank any longer, Vicki offers motivational words, reminding you that it's normal to be shaking like a tambourine. Better yet, she does so in an upbeat and uplifting tone, and with a smile on her face the entire time.
4. Low—or no—weights. The v.method's movements are based around the use of light, one-pound weights that create lean and lithe muscles. Cardio vusion beginners like myself can even perform the exercises without any weight at all, which I can assure you is still very challenging.
5. Shake without the ache. Despite years of running, the muscles in my legs are apparently weak and wobbly, as evident by their trembling by the third and final segment of the video. This is a good thing, Vicki assures you as you make your best attempt not to topple over. Working your muscles in such a focused manner will give you strength and length from head to toe.
To get started on the v.method or to learn more about cardio vusion, book an appointment with v.method founder Vicki Vara on Zeel. Members can book a 10-pack of classes for a special Zeel price of $90 (that's $9 per class!).