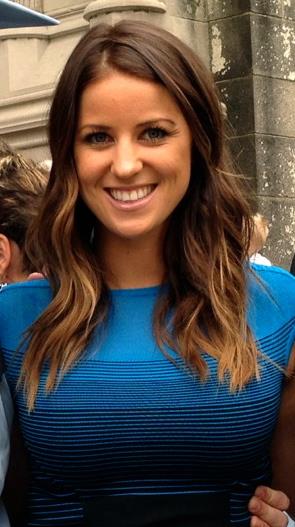 We sat down with the Senior Public Relations Manager at SoulCycle and Zeel fan, Vicky Land, to talk cycling, Instagram, and of course, sports massage in NYC.
Z: How did you come to work with SoulCycle?
VL: I've always loved to work out, but had never gotten into cycling. When I moved to NYC to work in magazines, my then-boss told me I had to try SoulCycle with her (she was already a huge fan!). I started to ride and literally fell in love with the workout and brand. I always felt better walking out of the studio than I did when I walked in. When the opportunity presented itself to work for SoulCycle, I jumped on it. I knew I wanted to be part of a growing a brand that was making so many other people feel as great as it made me feel!
Z: What's your health/fitness routine, and how do massages fit into it?
VL: All my meetings are on the bike, so I workout at SoulCycle almost every day. Additionally, I like to cross train, and I recently started the Kayla BBG guides (I'm on week 12). Because I work out so much, getting a massage is a necessity. I like to get deep tissue massages and sports massages to work the knots out of my muscles and help reduce soreness and tightness.
Z: What's the easiest way for a total newbie to get started with SoulCycle?
VL: Don't overthink it! SoulCycle really is for everyone, and it's fun! We have riders who are 11 and riders who are 80. We have professional athletes who ride alongside those who have never enjoyed working out before.
My advice: book a bike today! Then come to the studio 15 minutes before class begins so that the studio team can get you set up on the SoulBike correctly. (It's important that you're set up correctly so the workout hits all the right muscles in all the right places!). Then just pedal and enjoy riding to the rhythm of the music – and don't forget, the room is dark, so no one can see you!
Z: What are some of your favorite apps (fitness-related or not)?
VL: Instagram, which I know is so obvious, but it's how I discovered Kayla, and the Tone It Up girls, and a ton of other fitness people I've become obsessed with! And, I have to say the SoulCycle app is amazing too. All our instructors add their top music picks to their profiles.
Z:  How do you spend a typical Sunday?
VL: On Sundays, I really mix it up! I might ride at Soul or take a long hike in the Hollywood Hills. Afterward, I love to grab brunch with friends, head out to the beach, or get a Zeel Sports Massage.
Z: What do you love about Zeel?
VL: So many things, but the number one for me is that it's on demand! I can wake up in the morning or be driving home from work, open the app, hit request, and there can be an amazing therapist kneading out the tension from my neck and shoulders within an hour! AMAZING!
Are your muscles sore and tight after your SoulCycle work out? Book with Zeel for your next sports massage in NYC.
Marcy Lerner
Marcy is the SVP of People and Communications at Zeel. In addition to overseeing the humans of Zeel, Marcy has written about workplace topics for more than 20 years both at Zeel and as VP of Content for Vault.com, a career information web site and publisher.