Ask the Expert: Recover from a Knee Injury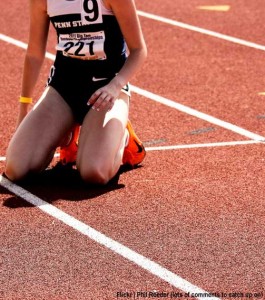 Knee injuries are practically a rite of passage for many athletes, and there's no telling when they'll occur. Fitness consultant and Zeel Expert Frank Baptiste is no stranger to this common training setback and has undergone knee surgery himself.
Unlike most fitness enthusiasts, however, Frank was back on his feet just eight weeks after surgery, participating in the Men's Health Urbanathalon, a nine-mile road race through Manhattan with obstacles along the way.
How was Frank able to bounce back so quickly? This resilient athlete was kind enough to tell us his secrets to a speedy recovery.
Stretch and assess
. First, stretch your calves and hips (including your hamstrings and glutes) and take note of where there may be asymmetries in your stance. Where are you tighter, your left or right calf? Oftentimes, imbalances in the rest of your body lead to poor movement patterns and complications that result in stress on the knee. Try to balance these throughout your recovery.
Don't operate heavy machinery.
People will quickly go to a leg extension machine to rehabilitate the knee. In their minds, it might make sense to strengthen the muscles surrounding the knee using equipment at the gym. In reality though, it's more important to strengthen movement patterns rather than the individual bones, muscles and joints.
Functional movements.
Perform functional movements like squats and step-ups before graduating to more difficult tasks. Practice motions that mimic those that you go through on a daily basis—climbing stairs, sitting in a chair and even taking a stroll around the block. If you can master these mechanics while at the gym, then you can eventually perform them on your own.
Ice, ice baby.
Ice your leg after every workout for 10 minute intervals. Ice is a natural anti-inflammatory that rids swelling. Frank insists that this simple tactic is what enabled him to participate in a physically taxing race just two months after surgery. His expert advice: Don't apply the ice directly to your skin or keep it on for more than 10 minutes at a time.