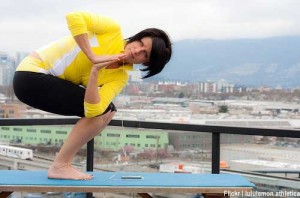 What's better than a really good stretch and a collective "om?" Great yoga plus fresh air, city views, and—if you opt for the evening class—a breathtaking sunset.
Rooftop yoga is becoming increasingly popular, with studios from Manhattan to LA taking to the great outdoors and setting up open-air facilities where you can practice your flow.
With fall on the horizon, now is the perfect time to down dog on the deck without the threat of heat stroke (unless you actually prefer Bikram). These New York City-based studios offer rooftop terraces, highly trained instructors and of course, deliciously crisp air. (Wear your sunscreen!)
Yo! Yoga ($12 per class)
A newbie to the Manhattan yoga scene, Yo! Yoga is quickly becoming a favorite among yoga-loving residents living in Midtown East. The quiet studio, located on 59th St. between 1st and 2nd Ave., offers a blend of hatha and vinyasa styles of yoga taught on a 1,300 square foot Astroturf roof deck. Students can choose from a variety of classes, including the athletic power yoga, a gentle candle lit evening sequence, and a pre-natal flow. In the event of rain, classes are held inside.
Good Yoga ($15 per class)
Good Yoga is the ultimate triple treat, featuring two rooftop terraces, affordable vegetarian meals prepared by the studio's own Chef Moti, and the chance to practice with Flannery Foster, one of the most respected instructors in all of New York. Nestled in the heart of Greenpoint, Good Yoga offers scenic views of both Brooklyn and Manhattan. Class sizes are limited to 15 students to ensure personal attention.