Massage therapy, at least according to the American Massage Therapy Association (AMTA), is a women's game. A full 86% of licensed massage therapists in the United States are women. And anecdotally, many customers, at first, may prefer female massage therapists. Women massage therapists may be thought to be more sensitive.  And some female customers may be more comfortable working with a female therapist, especially for an in home massage.
That said, there are many reasons to book a male massage therapist. And Zeel customers agree — over a third of our experienced, licensed Zeel Massage Therapists are men, above the average for the industry.
Here are some reasons to choose a male massage therapist at Zeel (and remember, you can either express a gender preference in the Zeel Massage app, or simply say you have no preference.)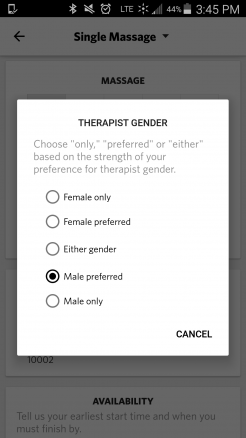 Good stretching
Male massage therapists agree that they may find deep stretching easier because of their (typically) greater height. "I know with my strength and size I can do bigger, longer stretches and I am up to that challenge.  It is simply a matter of my being bigger — I'm 250 pounds with lots of strength control," said Zeel Massage Therapist, Al.  (As it turns out, stretching is a hot trend in the wellness industry.)
Excellent therapists
Even customers who might normally prefer female therapists are happy to book a therapist of any gender, noted Zeel Massage Therapist Tom. "It really helps to be a Zeel Massage Therapist," said Tom. "Because we are experienced, prescreened, and vetted, Zeel customers trust that I will give them a great massage. I've definitely 'converted' many customers who have never had a male massage therapist before."
Marcy Lerner
Marcy is the SVP of People and Communications at Zeel. In addition to overseeing the humans of Zeel, Marcy has written about workplace topics for more than 20 years both at Zeel and as VP of Content for Vault.com, a career information web site and publisher.