Looking for a Zeel promo code? You've come to the right place. We don't want you to have to go digging around on shady coupon sites to find a great deal on in-home massages. That's why we're sharing the most tried-and-true massage coupon code you can get — good for a $20 discount off your first Zeel Massage.
PAUSE20
$20 off your first Zeel Massage
How do I redeem a Zeel promo code?
Simply enter the above code in the "Promo Code" field of your Zeel account when booking your massage through the Zeel mobile app or website. That's it. You'll get an instant $20 off, and a licensed and vetted massage therapist will arrive at your home with a massage table, ready to deliver a superb spa-quality experience.
The Zeel Massage code works with any one of our massage techniques — Swedish massage, deep tissue, sports massage, prenatal massage, couples massage, or our custom Sleep Massage.
You may use the Zeel promo code in any of the locations in which we offer mobile massage services — now totaling 70 major cities and surrounding metro areas across the US.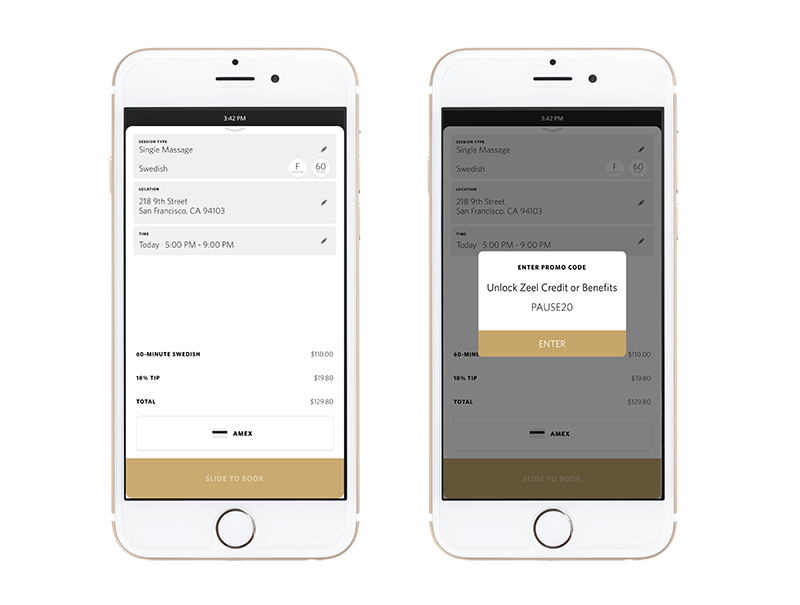 I've already used this promo code. How can I get another $20 off?
We're glad you asked. Simply share your personal invite code with your friends, family, coworkers or even on your social networks. (Tag us @getzeel if you feel so inclined.) For every awesome person who books a Zeel Massage using your invite code, you'll get an additional $20 credit added to your account.
You do the math — after only a few invites, you can get a whole massage for free. Invite enough people, and you'll never have to pay for a massage again.
For more information on how much Zeel costs in your area, visit this article.
Does the promo code expire?
The above promo code never expires. Of course, we do hope you use it sooner rather than later, so you can experience the wellness benefits of massage right away.
Your personal invite code never expires, either. You can use it as many times as you'd like, and earn as many free massages as you'd like. (Score!)
You will see that we occasionally offer a limited-time promotional code during specific holidays and events, in addition to the above options — these offers generally expire a day or two after said holiday. Stay tuned to our Twitter, Facebook and Instagram for future massage offers like this. (Codes do not stack.)
Can I use this promo code toward a gift card purchase?
Promo codes cannot be used toward a gift card at this time. You can purchase a Zeel gift card for any occasion on our gift certificates page. You may also use your Zeel Membership credits toward the purchase of a Zeel gift card.
Other questions about promo codes?
If you're ever running into trouble or just want to drop us a line and give feedback on your in-home massage experience, feel free to email us anytime at help@zeel.com and our award-winning Customer Support Team will be more than happy to assist you.

Zack Kinslow
Zack is a writer, producer and marketer with 10+ years' experience in the advertising, nonprofit and tech startup industries. He is currently the Education Production Team Lead at Foundr Magazine, a web site for entrepreneurship education and was previously Content Manager at Zeel. Learn more about Zack on LinkedIn.