New York City's so-called Summer of Hell is here, with seemingly never-ending track work on Amtrak and MTA — making an already-stressful commute even more hellish. That means it's more important than ever to find peace and quiet throughout the day.
Here are 10 hidden gems around NYC where you can relax, recharge, and enjoy a moment of Zen.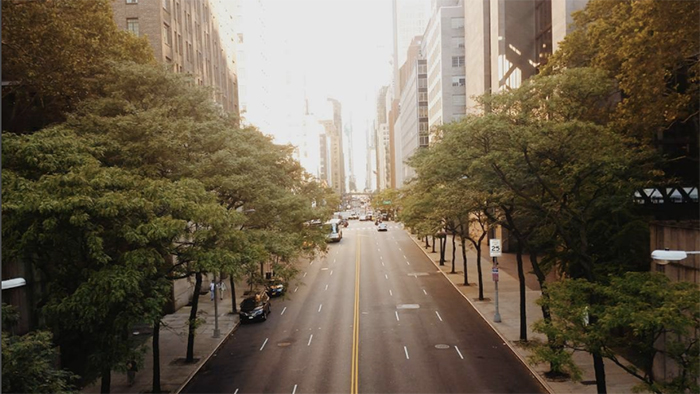 Tudor City Overpass
(42nd St – map it)
Go as far east as you can on 42nd Street in Manhattan, and you'll land on a quiet, scenic refuge just steps from the busiest part of town. Tudor City Overpass is great for snapping that perfectly symmetrical landscape photo overlooking the city (especially during Manhattanhenge), and there are two landmark parks and staircases flanking each side. You'll almost forget you're in Midtown.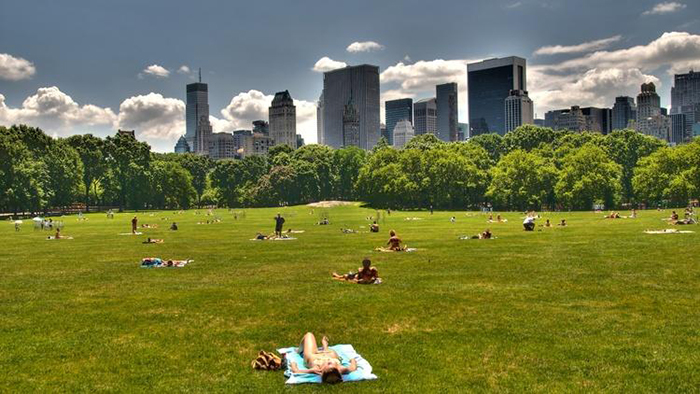 Credit: Edward Yourdon
Sheep Meadow – Central Park
(map it)
Sure, Central Park is the most popular park in New York, but there are plenty of hidden spots that aren't as swarmed with tourism. One of these in-the-know hangouts is Sheep Meadow, a 15-acre preserve in the western part of the Park between 66th to 69th Streets. Sheep Meadow is a great location for a relaxing picnic or simply laying out on the grass (who says you have to trek to the beach to work on your tan?). If you're lucky, you might even catch the mobile mojito guy serving up refreshing summer drinks from his rolling cart.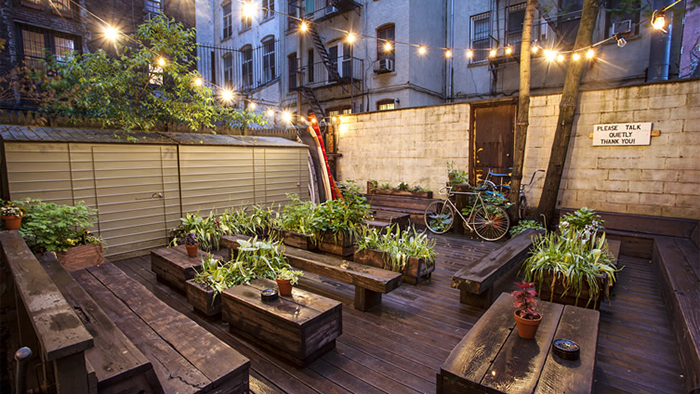 Credit: Saturday's NYC
Saturday's Surf Shop Back Patio
(SoHo – map it)
Sometimes the best hidden gems are where you'd least expect them. Like behind a retail store in NYC's bustling SoHo neighborhood. This boutique clothing shop for surfers has a calming patio tucked in the back, only accessible by walking through the store. It's a great spot for 1-on-1 meetings where you actually have to hear the person talk, or just a quick escape from the honking city streets. Pick up an iced coffee on your way in so you don't have to tell them you're "just looking" – it's some of the best cold brew in the neighborhood.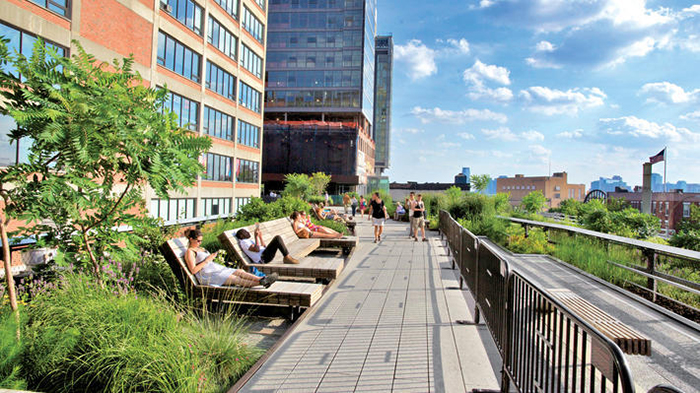 Credit: Time Out New York
The High Line
(map it)
This elevated community park built out of a defunct railroad is simply a must-see. Walk along its beautifully landscaped pathway from the Meatpacking District up through Chelsea, and appreciate the sculptural monuments along the way — you may just soak in some gardening inspiration. A brand-new section of this gorgeous tourist attraction was recently added in Hell's Kitchen, cutting through a new skyscraper development called Hudson Yards. While the High Line does tend to get pretty crowded, especially on weekends, not everyone knows about the new extension yet. You can still be the first one of your friends to post an Instagram overlooking where the subway trains park.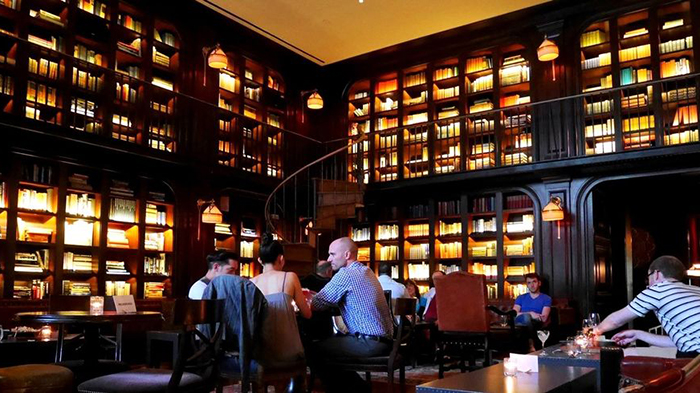 Credit: Harper's Bazaar
NoMad Hotel Library Cafe
(28th and Broadway – map it)
Great for a quiet meeting, or a latte while you catch up on some reading, the NoMad Hotel's exquisitely designed cafe area will transport you to another era. You'll feel like you're in a former US president's wall-to-wall library (remember when presidents could read?).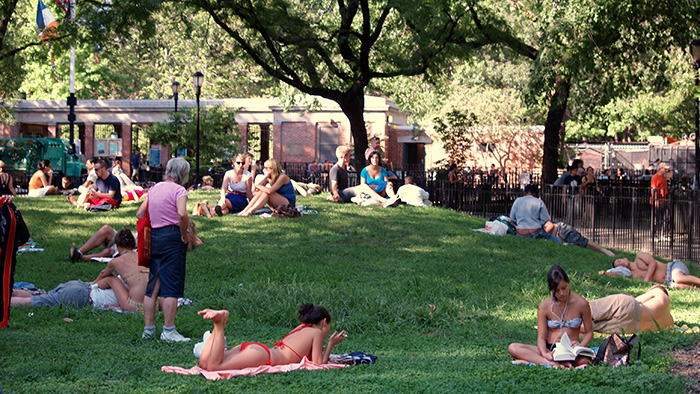 Credit: David Shankbone
Tompkins Square Park
(East Village – map it)
This historic hangout has completely transformed over the years. What used to be riddled with drug abuse, protests and even riots, is now a peaceful park for local Lower East Side residents and visitors alike. Lay out on the park's lawn with a blanket and a picnic (perhaps some freshly baked Tompkins Square Bagels, because nothing says treating yourself like breakfast food in the afternoon). To add to the Zen, stroll over to the famous dog run for some puppy-watching — it's the first one in New York City.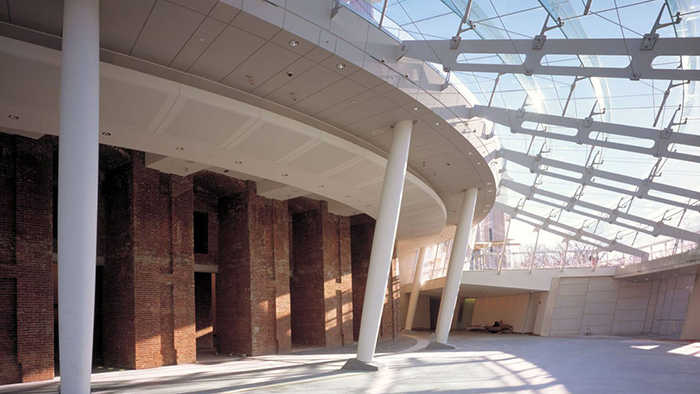 Credit: Ennead Architects
Brooklyn Museum
(Crown Heights – map it)
When you think of museums in NYC, you probably picture the MoMA, Guggenheim, Metropolitan Museum of Art, or even the Whitney. (All of which are wonderful destinations, if you ask us.) But the Brooklyn Museum is also a peaceful escape to gather your thoughts and get inspired — and it likely will have less of a tourist crowd due to its non-Manhattan location. As one of the oldest and largest art museums in the US, the Brooklyn Museum has quite an eclectic collection. The design of the building is also a creative refuge in and of itself. Have a seat in the Grand Lobby and bask in the natural light pouring in.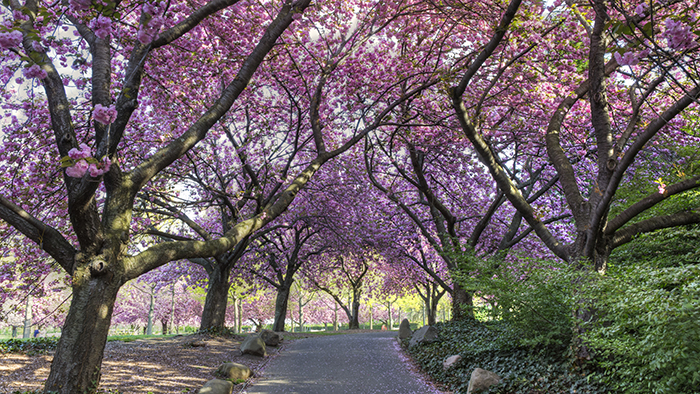 Brooklyn Botanic Garden
(Prospect Park – map it)
Located just steps from the BK Museum in Prospect Park, the Brooklyn Botanic Garden boasts another one of the borough's favorite weekend attractions. The gardens are home to a kid-friendly annual Cherry Blossom Festival (formally known as Sakura Matsuri), a Japanese pond garden, a scenic Cherry Esplanade and more, peppered throughout a 52-acre landscape. The inspiration for their annual festival was "based on the Japanese tradition of appreciating the beauty and fleeting nature of cherry blossoms," according to an announcement from the garden.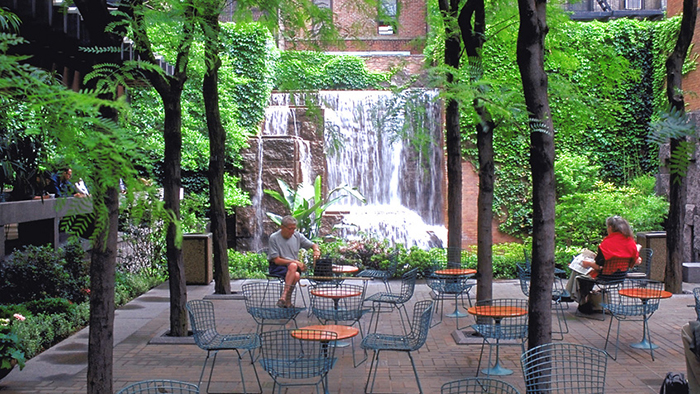 Credit: Sasaki
Secret Waterfall Patios in Midtown
What's more Zen than a hidden waterfall? You may be surprised to hear that there are several of these tranquil sanctuaries nestled throughout Midtown Manhattan. Grab a few minutes in one of these pocket parks to read, enjoy a quiet lunch away from your desk, or simply breathe.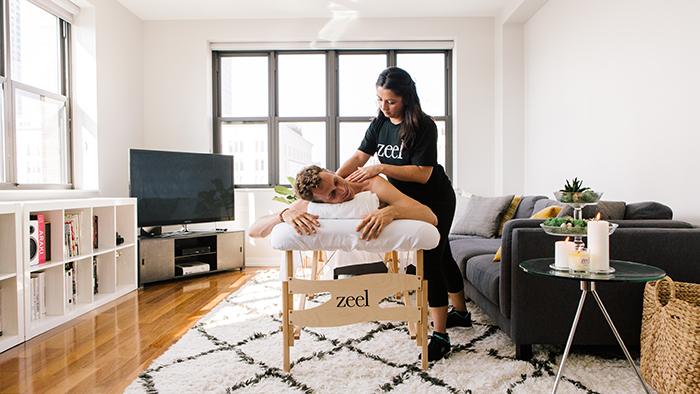 Your Own Apartment
When all else fails, your own home is the best place to unwind and relax in NYC. With the ability to hit a button and have a 5-star Zeel Massage delivered to your door in as little as an hour's notice, your own dwelling can become the ultimate NYC chill spot. Why leave the apartment when luxury can come to you?
Insider tip: you can share your member discount with family and friends, regardless of they're location.
Suggested Reading:  Self-Calming Techniques for NYC Subway Riders
Zack Kinslow
Zack is a writer, producer and marketer with 10+ years' experience in the advertising, nonprofit and tech startup industries. He is currently the Education Production Team Lead at Foundr Magazine, a web site for entrepreneurship education and was previously Content Manager at Zeel. Learn more about Zack on LinkedIn.