Ok, first of all, avocados are a fruit so, let THAT sink in! I can't be the only one who didn't realize that, right? Anyway, happy National Avocado Day (or as we here at Zeel like to call: every day of the week)! You don't have to twist my arm for me to eat an avocado in any way, shape, or form but, before I share some delicious (and healthy) recipes here are some avocado facts.
Avocado Health Benefits
Avocados contain vitamins B, E, C as well as copper and fiber. They also have a higher level of potassium than bananas so, take a seat bananas! Avocados are also packed with monounsaturated fat which can be good for your health because it helps to lower your "bad" LDL cholesterol levels which, apparently, 102 million Americans are having problems keeping at healthy levels, so all of this is good news.
There are also other reported health and overall wellness benefits like being good for your skin and lowering your blood pressure. It's also a very versatile food and can be prepared several ways making it easy to incorporate into a healthy lifestyle. So, let's get into it! Check out five ways to chow down on the beloved avocado on National Avocado Day or any day of the year.
National Avocado Day Recipes
1. Classic Guacamole
From: bonappetit.com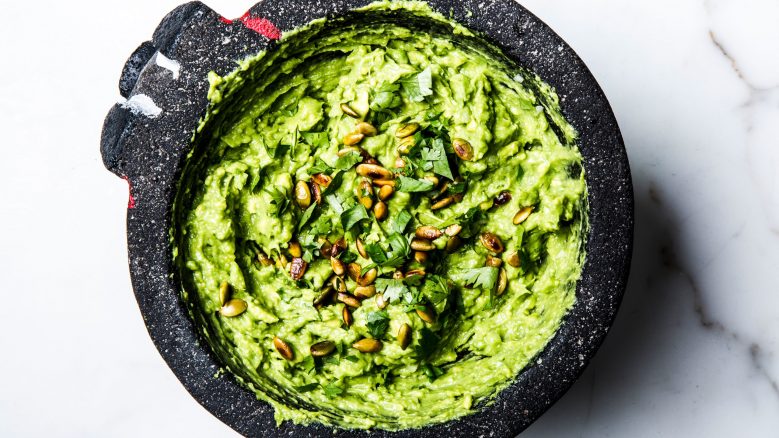 It wouldn't be National Avocado Day without a guacamole recipe! This classic recipe from Bon Appetit is the perfect guac go-to for individual snacking or for serving at your next get together. It has everything you'd expect in a guacamole recipe but you'll also find some surprise flavors like serrano chile and (optional) pumpkin seeds! The full recipe can be found on their site.
2. Portobello Road Bowl
From: @avocaderia
Sometimes chunks of avocado thrown on a salad is all you need to satisfy your craving. This is the perfect dish for you– easy to make, delicious to eat. Throw some brown rice and kale in a bowl, add your fave salad toppings like mushrooms and cashews and top with avocado cubes and a chipotle mayo. Yum!
3. Next Level Avocado Toast (Turmeric Deviled ScrambleEggs with Avocado on Toast)
From: Well+Good
This recipe is basically for people who like flavor in their food. It's loaded with spices like turmeric, hot paprika, and chili powder and has enough red pepper flakes to give you that extra kick start your morning needs. Here's the full recipe and how-to.
4. Creamy Avocado Pasta
From: goop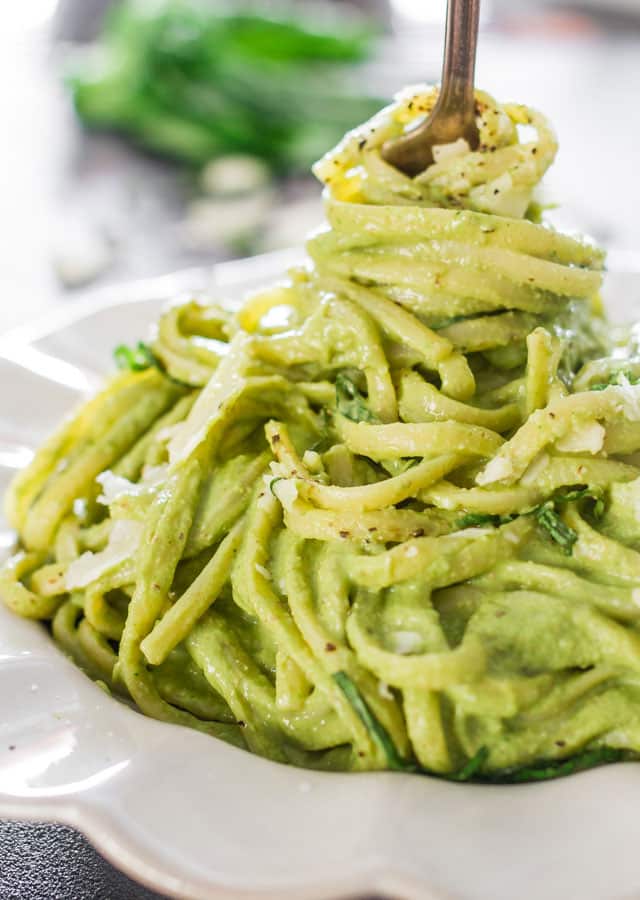 To make this sauce you pretty much throw a few ingredients like olive oil, basil, and cilantro in with some avocados and puree it to perfection in the time it takes to cook the pasta. Win. You can also add a variety of veggies to this dish and use whichever type of pasta you'd like! This is what you need to do to make the sauce.
5. Vegan Tostadas With Homemade Guac
From: @candicelynnfitvegan
https://www.instagram.com/p/BYexxd0hUJ-/?taken-by=candicelynnfitvegan
These vegan tostadas are so delicious you'll forget that they're vegan. Isn't that something we always want in a vegan recipe? They're loaded with veggies and a creamy homemade guacamole. No need to feel guilty about throwing back three or four of these; what are you waiting for?
Now go forth, enjoy these avocado filled recipes and don't feel guilty about digging in!
Chase Hill
Chase Hill is a Social Media Coordinator for Verizon Media. Previously he was the Social Media Manager at Zeel, LittleThings and the New York Daily News. Connect with Chase on LinkedIn.