International Women's Day is an annual day when we celebrate the progress of women in society and press forward for equality and gender parity. At Zeel, we're lucky to know thousands of smart, professional women throughout the country – massage therapists on the Zeel platform.
To celebrate International Women's Day, we spoke to four female massage therapists about their careers and personal life, and how massage therapy played into their life paths.
Meg, the busy mother

My favorite thing about being a massage therapist is definitely the amazing people this career allows me to meet and have the ability to help them feel better. Massage definitely empowers women.  As a female therapist, having the ability to take care of my family at home and work in a career that I love is all I could ever ask for. From a client's perspective, having the option and ability to receive self-care at one's convenience is a major step forward for all women.
As a mother and a massage therapist, finding a balance between my home life and work life is actually very simple. Massage therapy allows me to stay home with my children and work my own hours when I decide to.
A misconception people often have about massage therapists is that we only did hands-on training at massage school.  They usually do not realize the extent of our education, and that it includes many in-depth hours of anatomy, physiology, kinesiology, pathology and so much more.
If I could share one message with the women of the world, I'd say "That dream that's been in your heart for all these years – it's not too late for you to go after it.  Trust that you have special abilities and value to share with the world around you. You are loved and you are needed. Follow your dreams."
Sylvia, the flexibility-seeking therapist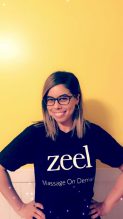 My most favorite thing about being a massage therapist is connecting with a client. The universe has a way of people the right person on my table at the right time. Being flexible is a massage therapist's middle name. I've learned to most definitely always put family first before work. I think I have mastered my work-life balance the best I can.
I'd like to say to all women: "Listen to your body. Take breaks. Take deep breaths. It's important to take care of ourselves."
Nakia, the well-rounded therapist
I began my career in massage therapy in 2002. I was motivated to pursue massage therapy after finishing an international health spa therapy training (C.I.D.E.S.C.O.) that included basic massage principles. Ten years later, I returned to National Holistic Institute and completed the advanced neuromuscular program.
Zeel appealed to me as a therapist because the platform offered many services that were time-consuming for me as an independent contractor, such as screening, scheduling and payment processing.
I believe that it 's a great company for woman therapists. Zeel offers protection through their screening process, providing peace of mind when working on location. And it empowers us to provide in-home treatments safely and professionally without worry. If you are interested in becoming a massage therapist, you are joining a community that supports health and wellness. Massage therapy a rewarding career that offers many wonderful opportunities.
Lara, the massage therapist educator
I always knew in the back of my mind that  I wanted to be was a massage therapist. After I got my 4-year college degree, I decided not to use it, and instead went back to school for a degree in massage therapy. I have been practicing and working in the field for 10 years now. Massage therapy allows some women to create their own schedules. However, since I am on the academic side of massage – I teach massage therapists – so my hours are pretty set.
Massage empowers women professionally – we can run our own businesses. I, for one, owned and operated my own business for years and had several employees. For female clients, massage helps them feel better, stay in tune with their bodies, and function at their optimal level.
Being a massage therapist is a nurturing profession and, in my opinion, our society is just now starting to accept men in these types of roles. As of right now, women dominate the field. I think it is absurd, but I also think that men are definitely able to create successful businesses in the field.
Hristina Mangelova
Hristina Mangelova is a Content Manager and SEO specialist at JumpCrew. Previously she was a Content Manager at Zeel. View Hristina's profile on LinkedIn