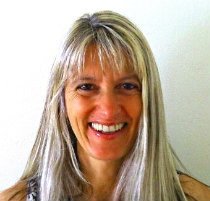 Karin W.
Massage Therapist "CMT"
"My joy is to do good for others" says Karin a certified massage therapist practicing in El Cerrito, Ca. Originally from Germany, she worked with holistic medicine, Homeopathy and Massage in Berlin. She made her kinesthetic gift her profession, connecting to clients through touch and providing the need for compassion is essential to Karin's approach.
Her work allows Karin to share her gifts with others in a deep and meaningful way. Every massage is different and tailored to each client's needs. Her daily meditation practice allows her to work from a state of complete presence in the moment. Karin also works with infants and kids all ages. As an infant massage instructor for parents and caregivers, she applies her relevant skills as a pediatric massage therapist.
During her 18 years as a therapist, Karin massaged people from all over the world and collected numerous valuable experiences. She draws from a wealth of expertise in shiatsu, swedish massage, deep tissue, cranio sacral, reflexology, energy work, pre/post-natal massage.
---
Professional License
CAMTC certificate 1526 Business License 150001286
Certifications
California Massage Therapy Council
Specialized Training
School for Massage and Naturopathy, Hamburg, Germany (1996)
Current & Previous Employers
Hotel Adlon Kempinski Spa (Berlin, Germany); Harbin Hot Springs Retreat Center (Middletown, CA); Karin's Art of Touch (El Cerrito, CA)